The Railway at Hamstead Colliery
The colliery was on the East side of the LNWR Birmingham to Walsall line and was served by standard gauge sidings which run under the screens. LNWR/LMS locomotives handled traffic to and from the mine.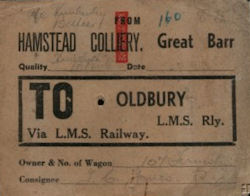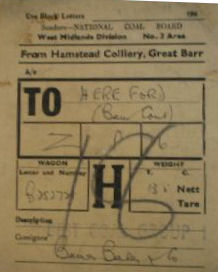 Locomotive haulage was introduced in sidings from 1955 until the colliery closed in 1965.
Four locomotives, two steam and two diesel locomotives were used. No numbers were used although two were named. Industrial locomotives are identifed by manufacture and build number.
John Fowler 22501 "TELFER"
0-4-0 Diesel Mechanical locomotive built 1938. Ex Sandwell Park Colliery August 1955, Scrapped June 1965
Rushton & Hornsby 279602
4w Diesel Mechanical locomotive built 1950. Ex Sandwell Park Colliery February 1956, Scrapped September 1965.
Peckett 1491 "VANGUARD"
0-4-0 Saddle Tank built 1917 for The Royal Arsenal Railway and ran inside the Royal Arsenal, Woolwich, southeast London.To Brereton Collieries Ltd., Staffordshire, 1920 then Rawnsley Loco Shed, near Cannock Wood, August 1959. To Hamstead Colliery January 1961. Scrapped at Hamstead November 1962 by W.H. Arnott Young & Co. Ltd.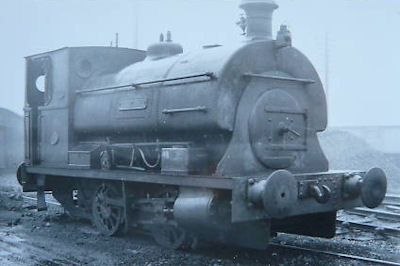 Andrew Barclay 2247
0-4-0 Saddle Tank built 1948. New to Chasetown Colliery. Also worked at Coppice Colliery 1959, Grove Colliey 1962/63 before returned to Coppice Colliery. Mid Cannock Oct 1963, and Walsall Wood May 1964.From Walsall Wood Colliery to Hamstead September 1964, returned 1965. Seen here at Coppice Colliery.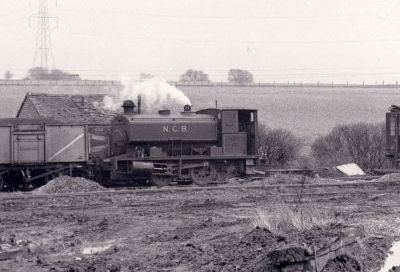 ---
Many thanks to the Industrial Railway Society (www.irsociety.co.uk) for providing this information.
Additional information from Chasewater Stuff's Blog.
Information
The HAMSTEAD MINERS MEMORIAL TRUST is a registered Charity No.1098711
We welcome information and photographs on Hamstead Colliery and Great Barr